The original line was called the Cairns Railway when opened to Myola just west of Kuranda in 1891. Like many lines in Queensland it was built to serve the goldfeilds in the mountain hinterland around Cairns. Today the lines primary role is as an intergral part of the tourist industry that powers the city today.
The line still sees some freight mainly during the sugar season when the Mill at Arriga which is ninety-six kilometers from Cairns by rail transports sugar juice to Babinda for further processing.
The line from Cairns to Kuranda has 15 tunnels and many spectacular bridges and is well worth the trip up and down.
I didn't take many photos on the trip and have left a lot out so I don't spoil the experience for anybody who wants to ride the train.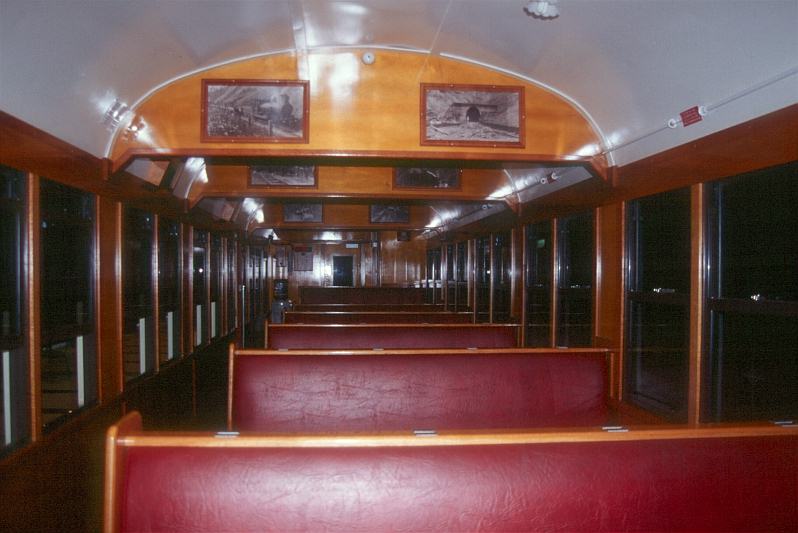 The interior of my car with all my mates at Cairns Station as you can see the walls are decorated with photos of the line as well as LCD screens with wood frames that activate at points of intrest along the line. 07/04/05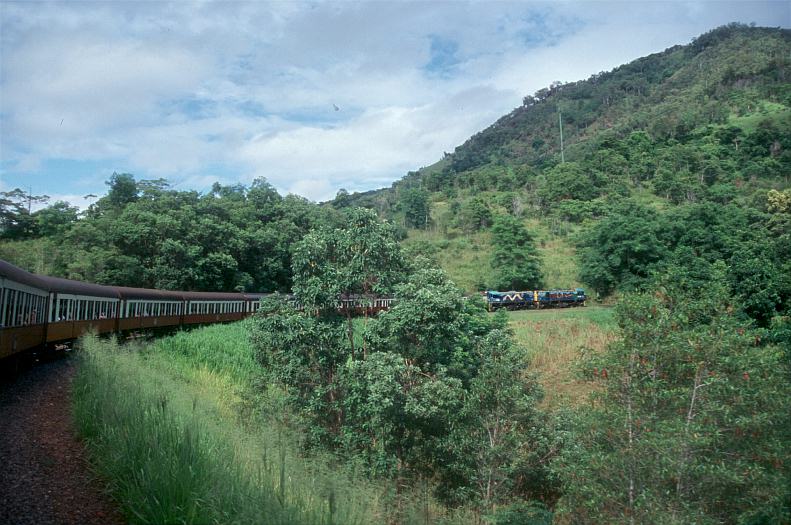 Our train slows to negotiate the Horseshoe curve above Redlynch at Jungara fourteen kilometers by rail from Cairns, ten in a straight line. 07/04/05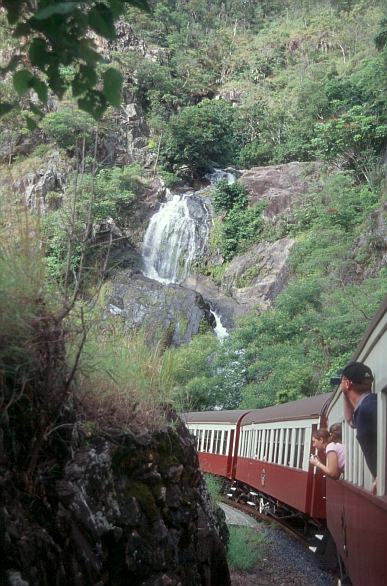 Looking back at Stoney Ck falls near the 24 km post as we contuinue up the range to Kuranda. 07/04/05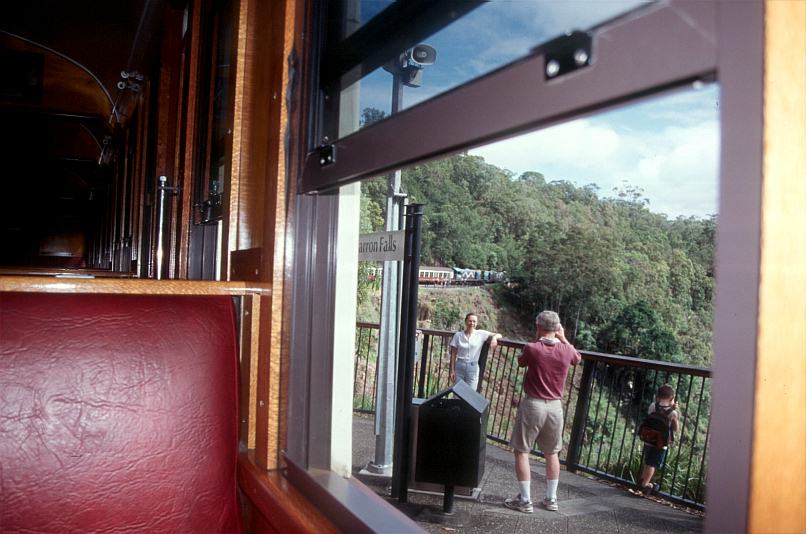 A photo showing people doing what people do at Barron Falls station at Barron Gorge Falls. 07/04/05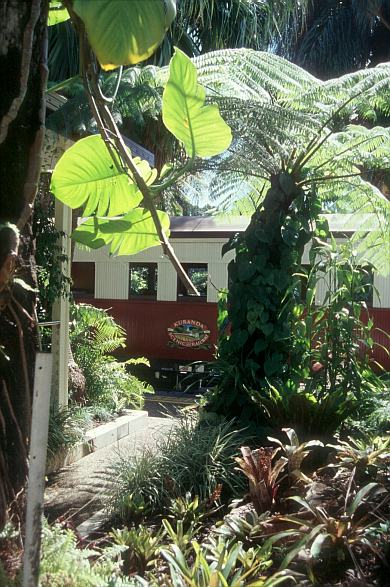 The gardens at Kuranda Station 07/04/05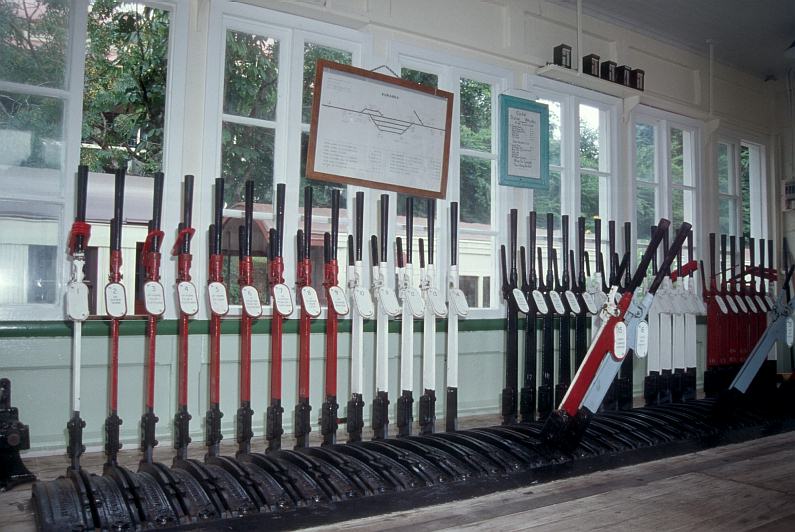 The interlocking frame in Kuranda Cabin is one of the last working manual interlockings in the state. 07/04/05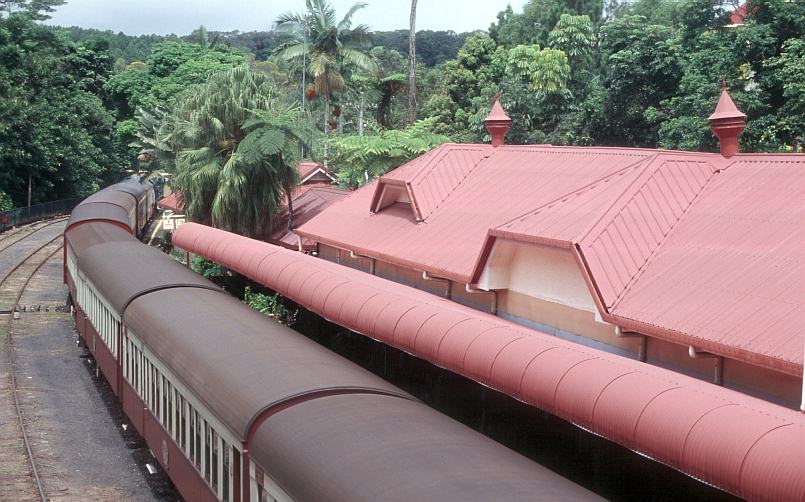 Kuranda Station from the walkway over the tracks, the tourist trains are stored either side of the island platform.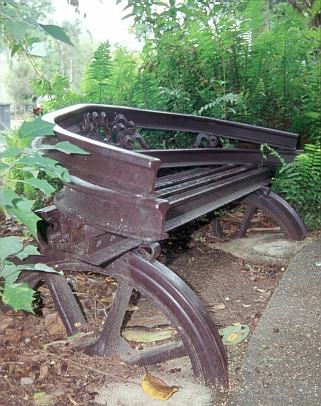 Bench seats near Kuranda station made from rail produced in England in 1883 it is stamped 25lb/Y.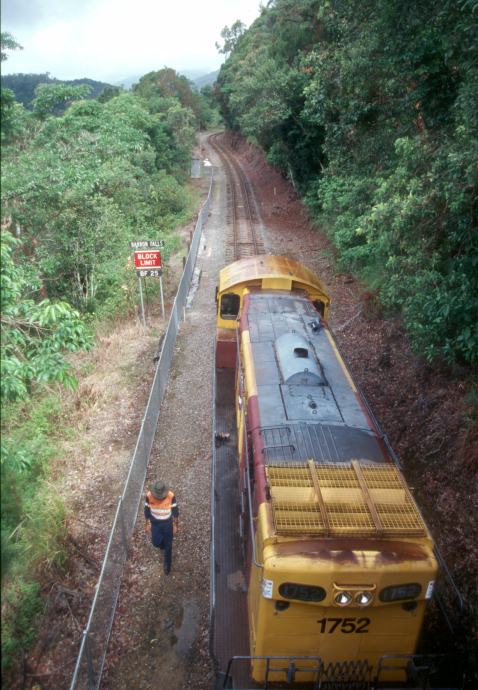 The Cairns bound Kuranda tourist train paused at Barron Falls to let people take in the view. The crew takes the opportunity to check the train before the long decent to Cairns.08/04/05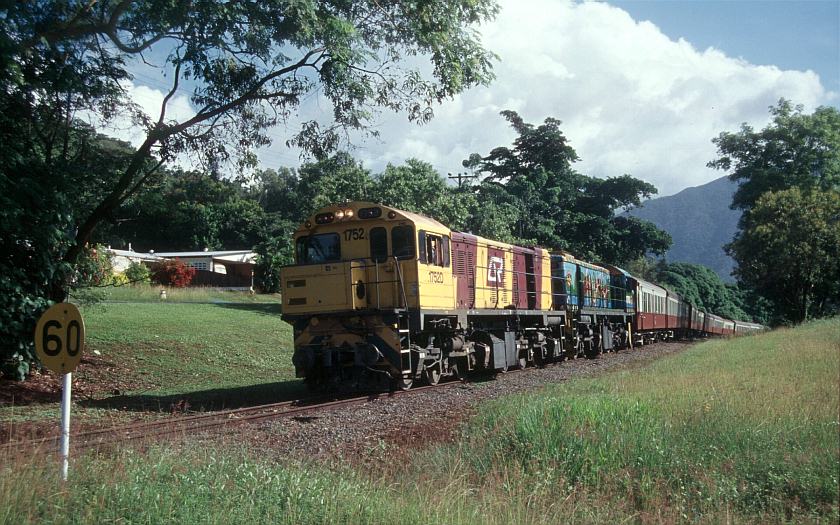 1752 approaches Freshwater station for an on time arrival from Kuranda, most of the passengers get off here and take a coach back to their accommodation. I am at the head of a very long photo line of overseas visitors.