St Lawrence is located about halfway between Rockhampton and Mackay on the North Coast Line about 812 kilometers north of Brisbane and was once a major crew and track maintenance depot. Changes in work practices and faster running times have seen the town shrink and little remains of a once large rail depot. The township was little more than a fishing village before the railway arrived and although on the coast no area was suitable for a port capable of taking large ships. Once the railway arrived in 1921 the town flourished but today it remains a shadow of its former self serving the local farming community.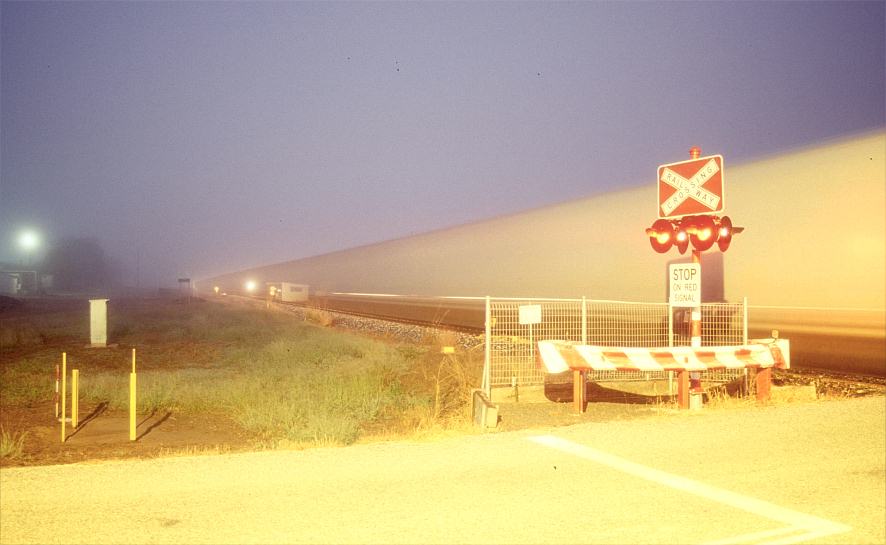 2821 + 2197F lead a train of container wagons south towards Rockhampton after this photo was taken I moved to the platform and listened to this train for the next ten minutes as it powered south.
05.45 17th May 2003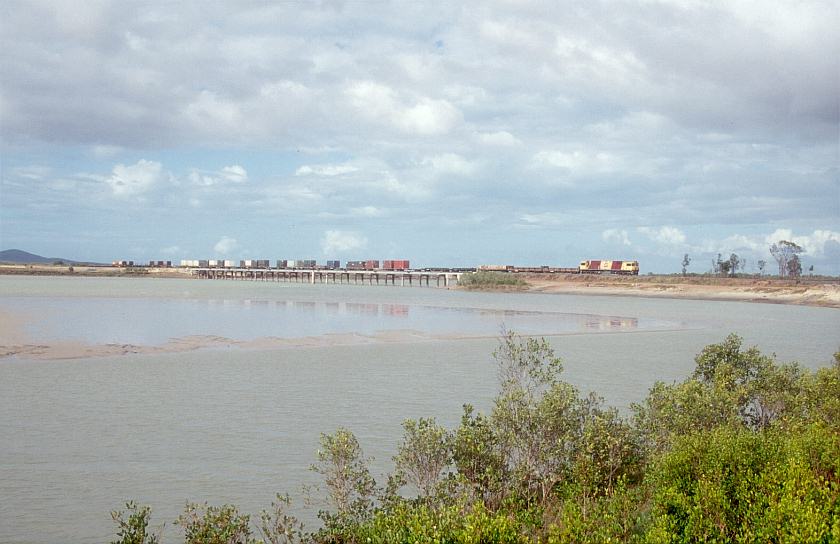 2808 passed through the township of Clairview around 15.07 and is seen here bit further south crossing St Lawrence Creek. Problems with the locos ATP system saw 2808 suffer an emergency brake application at the Up Approach signal on the northern side of St Lawrence Ck at 15.38 and did not proceed into the loop until 15.56 to cross with 2196F and its train of containers which held the main line.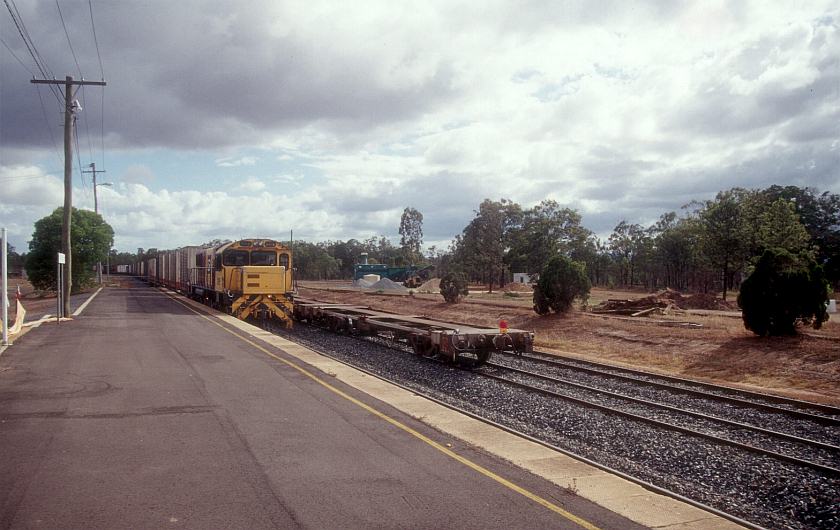 2196F slowly traverses the main line as it crosses with 2808 in the top right corner of the shot you will see the area used for the triangle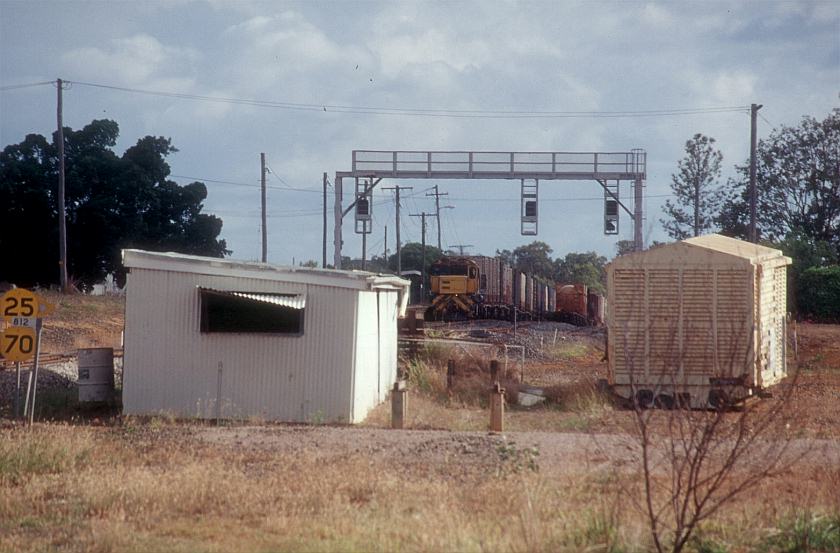 This shot displays some of the few remaining QR structures in the town as 2808 starts to clear the loop.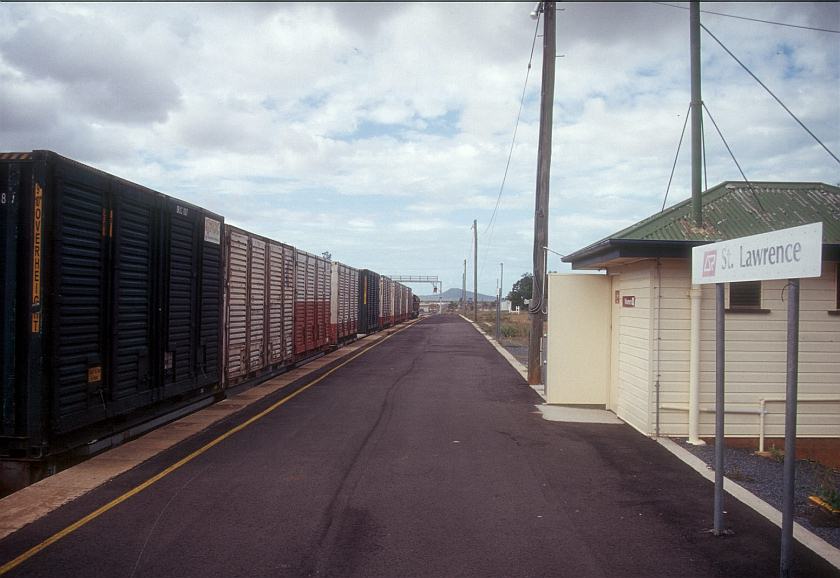 2196F and it's train held the main while the driver had smoko and waited for a cross with 2850 showing up from the north at 16.16.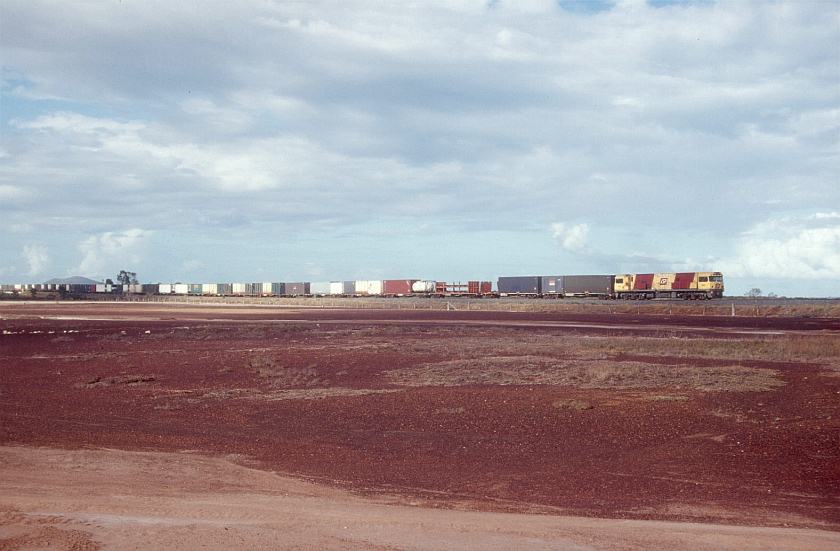 2850 also suffered ATP proplems at the UP approach signal but didn't come to a complete stop. As you can see the landscape is very stark around St Laurence this shot is a bit further along that the first bridge shot. The train took the loop and waited for a cross with a northbound train while 2196F cleared town to the north.2850 was sighted again at Ogmore at 17.30 and proceeded to Kooltandra loop to cross with a northbound 2831 holding the main at 17.56 and proceeded south through Marlborough at 18.16.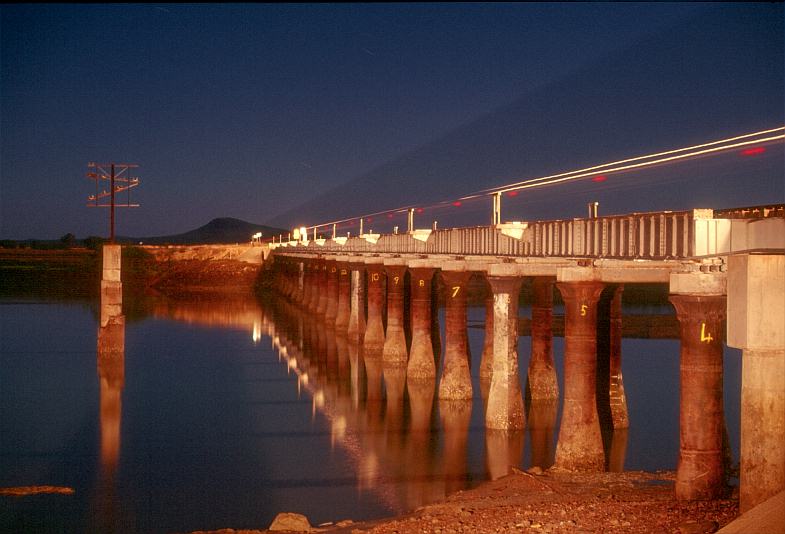 A diesel hauled container freight passing over the St Lawrence Creek bridge on it's way north. 9/09/03 7.39pm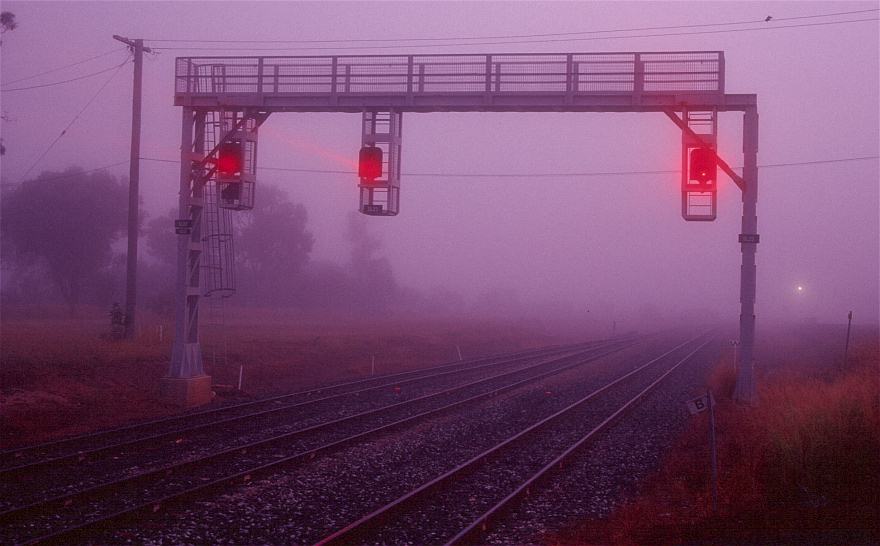 On the platform at St Laurence the gantry signals peer out into the fog protecting the line to the north all of the station buildins have been removed and it is a strange sight to see such a long barren platform.
06.00 Saturday 17th May 2003