The Kingaroy Branch was built to serve the rich agricultural and timber areas of the South Burnet area of South East Queensland. Today the branch is little more than an operating museum with the line heavily subsidised by the state government. Most of the traffic has moved to road transport but the locals are doing their best to supply the line with freight that is not time sensitive.
This has all been a valiant effort to keep the line open but it was closed in 2006 and placed in mothballs.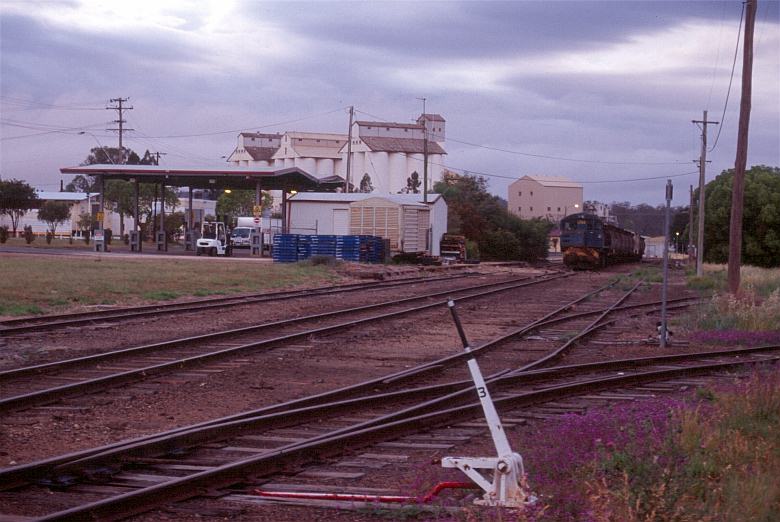 First light breaks over the once busy yard in Kingaroy as branch line loco 1744 with its train slumbers before an early departure. The train today consists of nine QCA grain wagons and two QFCW curtain sided goods wagons. The grain wagons are used to transport peanuts from the Atherton Tablelands near Cairns for processing in the area marked by the silos in the background of the photo. The original station has been moved and has been converted into a community building and the freight station in the centre of the photo serves as little more than a visual commitment by the government to rural towns. 5.33am 25/10/00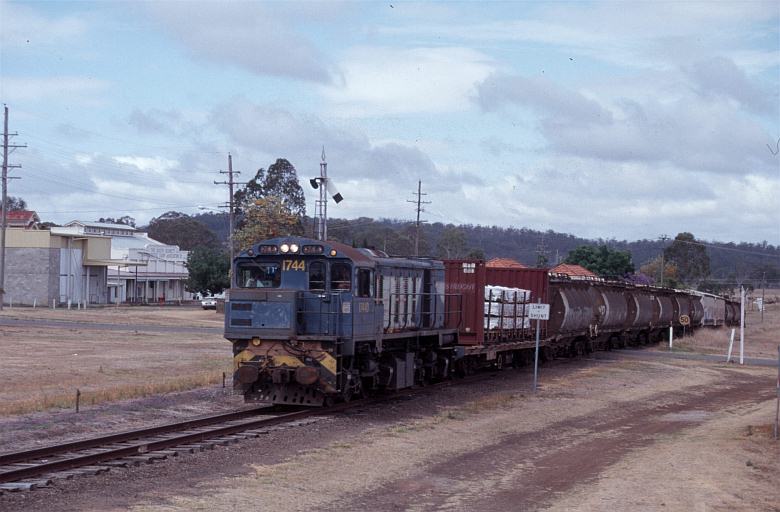 The train trundles into Murgon yard after picking up a NFSR flat wagon loaded with an open container of local hardwood at Wondai. The former railway station at Wondai has been converted to a community radio station and lies in the centre of a very pretty town. 8.25am 25/10.00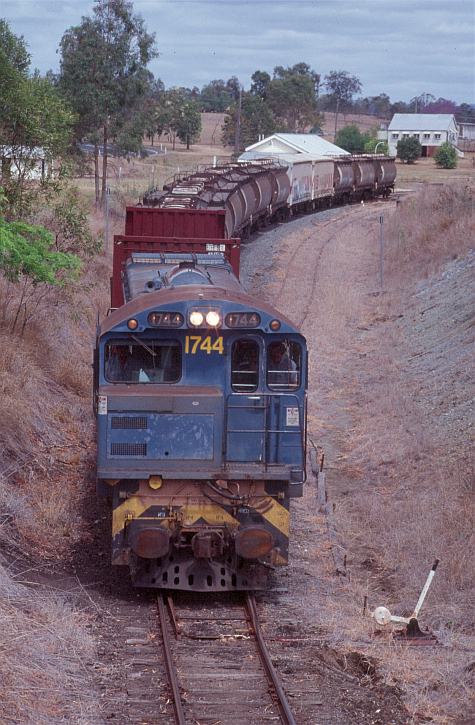 After descending the range just east of Goomeri our train passes through Kilkivan station. 9.50am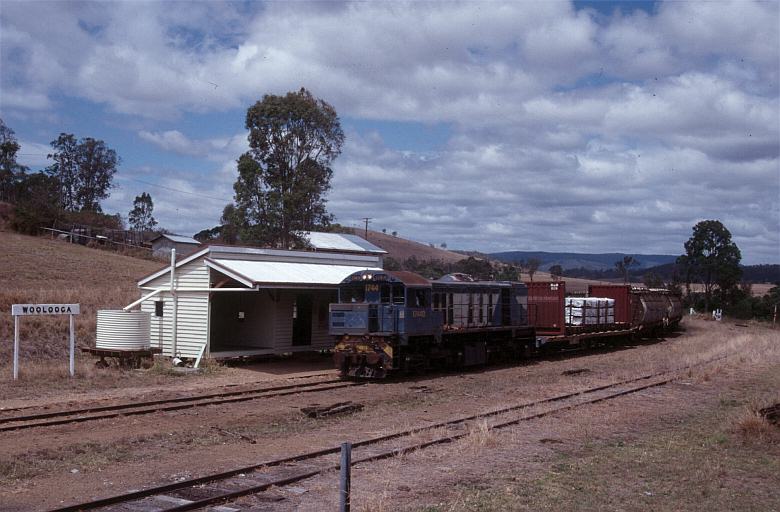 Perched on top of the old cattle yards at Woolooga to gain some elevation I provided the crew with a laugh as I balanced on a pole six feet off the ground.10.20am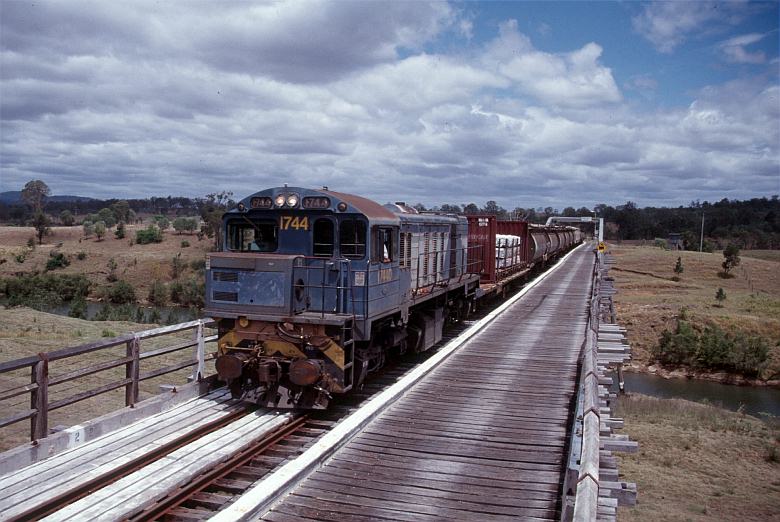 The road and rail bridge at Miva provides a brilliant place to watch and photograph the train as it negotiates the 5 km/hr curve which is very sharp and then accelerates up to the bridge limit of 7 km/hr. This is the first of two crossings of the Mary River the train will make today. 10.57am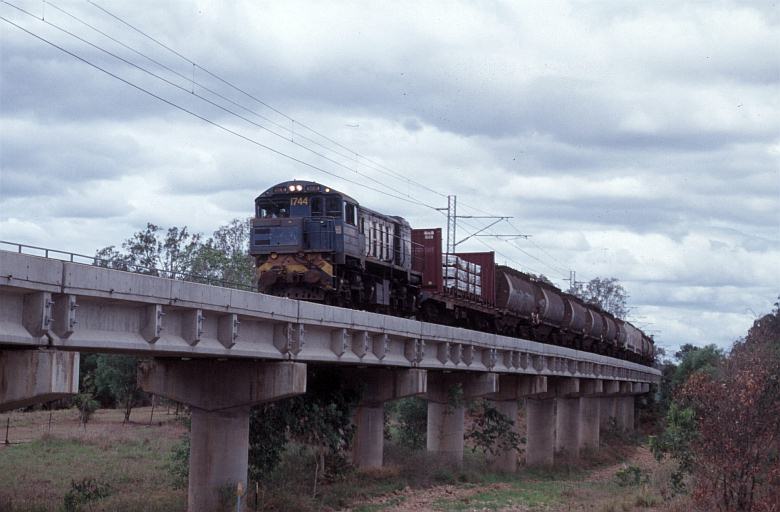 After crossing over to the North Coast Line at Theebine our train is now running hard near the loop at Gundiah and maintaining twice the maximum speed limit on the branch it just left. 11.19am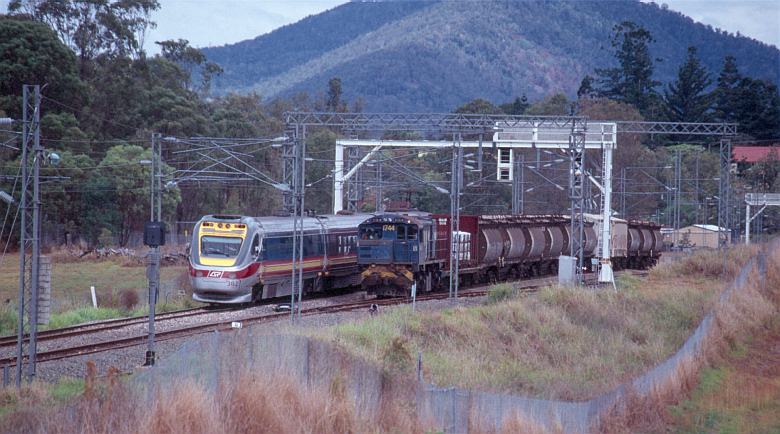 Our train waits in the loop at Tairo as the southbound Tilt Train 301 glides through at 11.41am
2174F shunts Maryborough yard on hot afternoon as it prepares wagons for the pineapple harvest.